Psycho Abortion Girl
I always get emails from readers. Sometimes they're not too happy about me writing about Master's Commission. This one started out sympathetic and turned psycho. 
Hi, is there a way to contact a specific person who has submitted a story? I'd really like to get in touch with the one who wrote about Master's Commission. I went there and I think it's possibly one of the most detrimental organizations in the US. I'd like to start a movement getting the word out about how terrible it is. I think if it got primetime attention it might help young people from making the same mistakes I did.

Thanks,

Kat
Then she went on to say all this: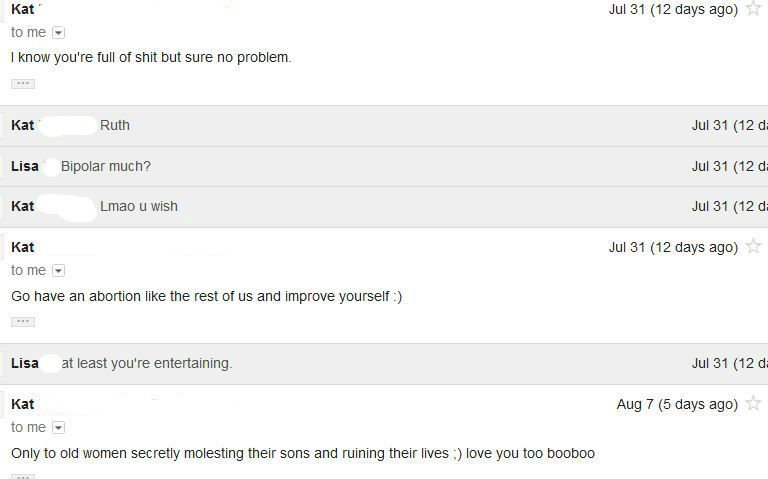 I think I'm most confused about the "Ruth" comment. Um, my name is Lisa…get it right. 
Never Trust Again
Oh you guys are depressing! I wrote this over at the good ol' blog and someone had to leave me this depressing tid bit. Now I can never fully trust again. Sigh. 
I know exactly what you mean.

The first guy I ever really loved broke up with me by sending me an invitation to his wedding. Silly me, I thought he was moving to my area. I thought the trip out to my location to meet with a hiring manager meant he was serious about that. I still have no idea what he was thinking. Would he have moved the woman he was obviously dating while he was supposedly with me to my area if he'd gotten the job? Did he pick her when the job fell through?

It took me a long time to trust after that.

And the next guy, he disappeared. I mean one day I realized I had left messages on his phone for three days and he hadn't called me back. Started to worry a bit, so when I still hadn't heard from him a few days later, I went by his place, and the apartment was empty. The property manager said he'd moved out three weeks prior. Went to his job, and he'd quit a month prior. So he'd quit his job and moved, and was still calling and chatting with me, even went to a movie with me, and didn't mention it, and then just…vanished.

I don't date much anymore.
Q:Do you have a "take" on Bill Johnson's church, Bethel, in Redding, CA? sharon

Anonymous
I've heard about it but never attended. I'm leaning toward a yes. That's the "gold dust" church, right?
Letters to Nowhere: Edwin, Chris and Jacob
The following letter is the REAL text of what I sent to my former Pastors and Directors of Master's Commission after I left in 2005. I worked for two years for Jacob Aranza, author of Backward Masking Unmasked and Making a Love that Lasts: How to Find Love Without Settling for Sex.
As I wrote in the previous post, Letter's to Nowhere, I didn't get a response from any of these pastors. Recently, a friend of mine was speaking to someone still connected with the cult and she said that she'd seen the letter Jacob wrote to me in response. Oddly enough, I've never seen the letter Jacob wrote to me. He never sent it, if he did, in fact, write it. Also, following the mailing of these letters, neither Edwin Ennis or Chris Lerma (or his wife) would return my phone calls, emails or text messages.
March 20, 2008
Dear Jacob Aranza and Chris Lerma,
Cc: Edwin Ennis, Lloyd Zeigler
I am writing you this letter in order to pursue closure in my personal life. First, I should say that after leaving Master's Commission, I have the deepest issues to resolve with you, Pastor Jacob and Pastor Chris. I'm not going to lie and say everything's fine. In fact, I have great resentment toward both of you. Personally, I feel I have resolved in my heart, or in person, everything with Edwin Ennis, but I will address him in this letter, as well. I needed to send a copy to Lloyd Zeigler as well, because I was in his Master's Commission in 1999 and I feel a connection to him.
I also want Lloyd to know I speak for dozens of other silent voices who could not (for many reasons) speak out against the injustices we've encountered.
I will try to be as respectful as possible, but I will say it is more important for me at this point to let my voice be heard rather than for it to be perfect. I have to speak my mind with these issues. My intentions are not to be vindictive, or hateful. In fact, I have a great love for the Aranza boys and Ms. Michelle. I developed such a bond with your children and wife that I have wanted to be so careful in addressing you, Jacob. In the same hand, Chris, we go back many, many years and I have a great affection for your wife. My intentions are to begin a road to resolve this issue between myself and Jacob and myself and Chris. I hope that each of you can humble yourselves just as I have, in order to meet me where I am right now.
Chris: I don't even know where to begin, but I guess I'll just start. I may not cover "everything," but I will do my best to get out the main things.
The summer before my last year in Louisiana is where I feel everything went downhill with you. I was burned out, depressed severely and overworked.
I was beyond exhausted, emotionally and physically. Much like maybe you felt, your wife, or even Edwin or Liz. The many times I came to you to ask you if I could go home on a break to refresh myself, or just to not go crazy, you said no. I don't remember your reasons. What I do know is that you were most egotistical and hateful about my situation. It took Heidi Reiszner to step in, above your authority (thank God you guys went to Nashville for a month!) and say, "No Chris is wrong. Go home!" Jacob and Michelle agreed with her. What you didn't know, Chris is that I was on the verge of an emotional breakdown. I was so empty inside and had nothing to give any more.
My dreams had died. I felt I had died. I wanted to die. I wanted to drive my car into the pond at OSC and it's only God's mercy that I didn't. Suicide runs in the family buddy, and they've been successful at it!
Also, Chris, when I was finally allowed to leave, I didn't want to come back. Instead of being gracious with me, you were again egotistical and mean. I remember crying over it again and again, with things you'd say until my dad had to get on the phone with you and say,
"Lisa is not going back. She'll go back when she's ready to go back. Stop telling her what to do with her life."
Thank God for a father who has a backbone because I did not have a backbone at that time. I couldn't speak for myself because I was so injured and wounded, and to be honest I had been coerced into thinking that each male figure in my life, was a direct authority from God. That is not true, but that's how I believed.
Additionally, Chris, I feel I need to set the record straight with the issue with Tim. I feel justified in my anger that as a 24 year old woman, I was not allowed to choose who I would date.
The fault of that lies with Jacob, though, as he's the one who put his foot down and said, "Tim and Lisa? Absolutely not." Can I just say, Jacob, who do you think you are to say that about me? Who do you think you are to decide for a grown woman what she should or shouldn't do in her life!
Staying pure and not dating for 5 years plus, and still, I'm unworthy to make my own decisions? Give me a break! That's ridiculous. That's not God, and certainly Jacob if you claim you've heard the voice of God on that subject you need to check that channel!!! Back to you, though, Chris: Tim was always pushing me to move forward. He asked me to marry him, to run away and meet him in Ohio, and he'd have someone meet us there, marry us and we'd keep it secret a year. What did I tell him? No. I said, "You still live in Louisiana. Even though I think it's wrong that you have to tell them who you love and ask permission, you need to do that because you chose to stay there." I never tried to sway him to leave, or anything, but I did tell him to check his manhood and see if he had any! I said, "If some man is putting a guilt trip on you for being a man and having a desire for a woman that is pure, you need to stand up for yourself."
The issue is not about Tim. It could be someone named Tom. It doesn't matter who the man was, the fact was I was 24 and should have my freedom of choice. You guys took that away. What does matter, also, is when Tim finally TOLD Chris that he was talking to me on the phone (for 29 days, because he counted and told me every day), Chris told him he needed to stop speaking to me! For good! That is disgraceful Chris. How dare you tell a grown man to stop speaking to a woman, especially me! You had obviously some personal vendetta against me to do that. You know clearly, that if there was ANY young woman in Master's Commission you could have trusted to be pure and loyal to you guys it would have been ME. And even if I wasn't, you still have no right to tell a man or woman who to date!
Jacob, my biggest issue with you is that you're a very sexist man. By that, I mean you emanate a degradation of the female gender. I'm sorry, of all the many times you told me to be a pastor's wife, why would I EVER want to marry a man like you, as you'd so frequently suggest? Your wife is brilliant and beautiful and does tell you off sometimes, but mostly she does what you say because "you know best." The problem is: you don't know best. You certainly didn't know best for my life. In fact, as I heard from God over the years, the things you told me were clearly different from what that voice was saying.
Bottom line: God had a different plan for me than Jacob, and Jacob, you didn't like to hear that I could hear God's voice on my own!
That's my fault, though, because I allowed myself to work for you (as a nanny, house slave, and clean your toilets and wash your dishes….FOR REAL?!). I gave you the power over my life to tell me what to do and when. I take responsibility for that weakness of mind that I exhibited. Trust me, it will never happen again.
However, Jacob, one day we had a talk on the back porch swing. I'm sure you remember asking me what I wanted to do with my life. I said missions. You said, "Lisa, I could send you to India right now and you'd call me crying to come back home in a month. I don't think you can handle it. You need to be a pastor's wife." Or something along those lines.
The message I got from you, time and time again was this: You need to marry someone great, don't concern yourself with being great, or A woman's role is at home, don't try to be the pastor or missionary—be the wife. No thank you.
I thank my parents and the modern thinking of California right now that I know better! A woman is a powerhouse, a woman is a great creation—married or not! Just ask Chris Zeigler, who is perhaps the most bold, sweet, powerful woman I've met! And even though her husband is Lloyd Zeigler, a very powerful man, she speaks her mind!
Jacob, additionally, you paid me next to nothing and called me ungrateful for asking for a raise. Shame on you for only paying me $500 a month! I get paid a ridiculous amount more than that, for my work. Also, I need to point out to you, Jacob, because this was the argument you used on me regularly, that saying my "room and board" or anyone's for that matter, is part of the pay is against the law! According to www.payscale.com, average salary for a nanny in Lafayette, LA is $7.57 an hour, or according to GTM Household Employment Experts, in Louisiana the pay should be minimum $5.15 an hour and in Texas should be anywhere from $5.15 to 21.25 an hour. According to these sources and the Department of Labor for Domestic Workers, I should have been paid between $1000 to $2000 per month based on my hours, not including room and board. According to the Department of Labor, Board and Lodging is NOT to be taken out of the minimum wage requirement in a state, or minimum salary requirements for a job.
For over five years I worked as an executive assistant to Edwin Ennis, Vice President of Master's Commission International Network. I coordinated South Regional Master's Commission Conferences, wrote sermons, developed motivational media, etc. I co-managed an office of over fifteen people, and was also a nanny to Edwin and Elizabeth Ennis' three children (at the time.) According to 29CFR541.200, General Rule for Administrative Employees (www.dol.gov or Department of Labor), a person of my duties and position should have been paid $455 per week minimum, with www.salary.com claiming the median salary with benefits in Lafayette, LA being $46,509, not including room and board.
I was paid $100 per month for the majority of my years in Master's Commission (Austin, Texas and Lafayette, Louisiana.) After gaining some experience, my pay increased to $150 per month, and for less than six months it finally increased to $350 per month, only to decrease to $150 again. I received mileage reimbursement for three years, but no wear and tear reimbursement to my car (which was extensively driven by Edwin Ennis for personal and business related trips.) I also received no overtime pay for the hundreds of hours I accumulated. At no time did I receive health benefits or coverage for emergency services.
The bottom line is I'm here to serve as a voice for myself and my peers and the future MC's who will be damaged, after serving their whole hearts out. George Santayana says, "Those who forget the past are doomed to repeat it." I have to vocalize these things because I do have compassion on you guys and I don't want you to repeat the past mistakes.
However, as much as I have compassion on you, you must have compassion on me. You must find it in your heart to come forward and admit the wrong that was done. I will not simply tolerate the thoughts I've been thinking: "Oh, they're too prideful to admit their wrong and sincerely apologize." I simply choose to think positive! I know and you know, that when a person is victimized, they are often in the weaker position and outcast. It's the offender's job to be held responsible for their wrong. This is why we have jails! You have offended me and I am asking you to humble yourself and make it right—sincerely. Without both of you admitting there was an offense that you did, I feel I can not move on. While I would love to forgive you, I also must say that my forgiveness does not condone your actions. It simply allows me to heal more fully. To forgive, but never forget, may be one of the most humanizing responses I can offer in my situation. And the things I went through, I walked away feeling dehumanized.
I would like to leave you with a quote from a book called A Human Being Died That Night: A South African Story of Forgiveness by Pulma Gobodo-Madikizela, which revisits the events surrounding the Apartheid in South Africa and the pain of the victimized families, in the passage titled "I Have No Hatred in My Heart":
"Forgiving may appear to condone the offense, thus further disempowering the victim. But forgiveness does not overlook the deed: it rises above it. "This is what it means to be human," it says. "I cannot and will not return the evil you inflicted on me." And that is the victim's triumph."
Jacob and Chris, I do not wish evil to be inflicted on you. Though three years of tears have passed before my eyes, I must move on and we must live in this world together. I want to move on. I want to say one day that I have no hatred in my heart. I can not say that today, because the ball is in your court.
In conclusion, I have enclosed a discussion that I have also sent to Lloyd Zeigler, and the director of MCIN and each party mentioned to suggest ways to improve Master's Commissions in the present and future. In it, I discuss issues such as manipulation, brain washing, and control. I feel I experienced these elements in the teachings and discipleship in Master's Commission and the severity of these issues needs to be addressed. For the future generations, please take note.
Sincerely,
L.
Letters to Nowhere: Lloyd
This week, I've posted actual letters I've written to the pastors I worked for. The next letter in the succession is what I sent to the co-founder of the MCIN, or Master's Commission International Network, Lloyd Zeigler. I sent this letter to Lloyd because each Master's Commission group is under the MCIN umbrella and has to agree to follow a set of guidelines.
I urged Lloyd (and Eric Hunsberger, who heads up the Administrative side of the MCIN) to make note of what happened to me because I was speaking on behalf of several other students and staff members from Austin and Louisiana. I felt that was a responsible thing for me to do.
Lloyd and his wife called me as soon as they received my letter and talked to me for two hours. They apologized on behalf of Master's Commission and said they weren't aware of any of this until my letter came. Lloyd also told me if I felt I should pursue a lawsuit, I would have their support. I knew I'd have enough of a case to win a lawsuit, but my family has never been the type to pursue lawsuits. I also don't think Lloyd realized that he'd be implicated in that same lawsuit, if I pursued one, because the Master's Commissions in Austin and Louisiana were tied to his network of ministries and he might ultimately be responsible.
Lloyd said he'd be sending my letter to his lawyer to see if there were some things from it they could add into the MCIN guidelines to protect students and staff members from this type of thing happening, but he and his wife moved to Dallas, Texas to start a new church after that phone call and that was never done (to my knowledge). He also said that because Edwin Ennis was the Vice President of the MCIN he'd have to stand by him and support him, and I'd have to understand that. I didn't and don't understand that, actually. I think my letter and my demeanor on the phone must have been too mild to really convey the type of damage that was done to me and many others by this ministry for him to take Edwin's side. Otherwise, Lloyd wouldn't stand by and let young people get abused. At the end of the phone call, Lloyd told me to give his cell phone number to any of the people I was writing on behalf of, if they wanted to call him, he'd apologize to them and talk to them, too. I'd like to believe he really meant this, but I'm not sure because I gave his number to one of my good friends and she said he never answered her phone call or returned her voice mail.
Although I'm disappointed that this issue was completely discarded after my conversation with Lloyd and Chris, at least they had the integrity to call me and talk to me. For that, I am extremely thankful. However, the fact that young men and women are still getting spiritually abused and that my letter fell to people who just gave me lip service and ignored the rest of my pleas, is cause for me to need to talk about my experience.
The following is the letter I sent to Lloyd and Eric in 2008:
Dear Lloyd Zeigler and Eric Hunsberger,
This letter may come as a surprise as I've been out of Master's Commission Industries in Lafayette, LA for three years; however, the issues I'm addressing in this letter are relevant to the future of the MCIN.
After spending a year in Phoenix in 1998-99, I feel I developed a respect for both of you (Lloyd and Eric) and that respect has carried on into my years as a staff member in Texas and Louisiana (under Edwin Ennis and Chris Lerma).
My writings here are not of an offended, immature Christian, but of a burden I feel from God to speak my heart on what has happened to me because I know I'm not the only person I'm speaking for. There are many silent staff members (former and current), and students (former and current) who have felt deep, intense pain and betrayal after leaving Master's Commission. And more importantly, there are issues of manipulation and ostracizing that need to be heard and dealt with for the safety of the MCIN and the students and staff.
My suggestions and claims below are based on my own personal experience as a staff member and student of Master's Commission of Austin (Director, Edwin Ennis) and Master's Commission Industries (Director, Chris Lerma in Lafayette, LA), under Pastor Jacob Aranza. I seek dialogue to be opened up between the offending parties (Ennis, Lerma, and Aranza) and the groups which govern or oversee them (MCIN). My wish is that change would come and MCIN would take responsibility for the changes that need to take place.
While I will not go so far as to say that all Master's Commissions are cults, I will say based on my experience (and experiences of my peers), Master's Commission Industries falls into the category of what experts call a destructive group or a cult. The reason I use these terms are based on studies that have been done on cults. The following are traits that Master's Commission Industries has:
A Totalitarian worldview: A group that approves of unethical behavior while claiming goodness and promotes the goals of the group over the individual.
Exploitation: There is pressure to give money, to spend a great deal of money on special projects. Exploitation can be financial, physical, or psychological.
Alienation: Separation from family, friends, and society, a change in values and substitution of the group as the new "family".
Exclusivity: Secretiveness or vagueness by followers regarding activities and beliefs; recruiting and fund-raising with hidden objectives and without full disclosure; use of "front groups".
Additionally, some of the following are issues I have personally felt in my experiences in MC Industries (both under Edwin Ennis and Chris Lerma):
removing people from their normal surroundings and friends, often with weekend "trips" and "retreats"
sleep and sensory deprivation
development of a deep emotional debt
public confessionals
low-risk relationships (unconditional acceptance)
fear of punishment or damnation for even thinking about leaving the new "family"
viewing all of the outside world as evil or satanic so that any desire to return to it is also evil.
Other things the group leaders imposed:
leaders who claim divinity or special relationships with God and insist on being the sole judge of a member's actions or faith
demands for total control over members' daily lives (one of the hardest to recognize once involved)
isolation and exclusion from the surrounding community
demands for control of members' finances
absolutist views toward difficult life problems and spiritual questions
special (exclusive) promises of salvation or keys to spiritual understanding (i.e.: "It is only through adherence to our beliefs and our rules that you can be saved").
During my time as a student or staff member, I made effort to resolve and voice my complaints while working for the above mentioned parties. However, when I brought up certain issues, I was both rebuked and harassed, or dismissed as unimportant. Equally as important as the psychological effects, are the the financial issues.
I was paid $100 a month for well over 60 hours of work, which is less than $0.40 an hour (40 CENTS). Only one year was my pay increased to $500 a month (and that was when I worked as a nanny for senior pastor, Jacob Aranza), which is around $2.00 an hour.
I am speaking up about these issues because there are many more staff members and students who are willing to give their heart to these ministries and may walk away harmed spiritually, financially, and mentally.
I am requesting that the Master's Commission International Network and the Assemblies of God (or appropriate governing boards) investigate these issues and particularly Master's Commission Industries. I ask that you, MCIN, take an aggressive stance toward these issues. Upon investigation, I would like to offer that they establish guidelines to benefit the future employees/students.
For the future of the MCIN, I would like to suggest the following for the safety and wellness of the students:
Safe "complaint" system established that a student can go to without retributions in order to bring to the attention of the MCIN any matter of harassment, mental harm, destructive teaching, or all manners of an unhealthy group or cult-like teachings.
Guidelines established involving limitations on how much a director can dictate of a student's "self-discipline." Including, but not limited to dating, entertainment, music, clothing, etc.
Establish clearly that the Director or Staff Member is NOT the voice of God for the said students and staff members and in no way should exercise such grossly misguided authority.
Protection of the student from authoritarianism of a Director's or Staff members by revoking a group's affiliation with the MCIN, if deemed necessary.
Guidelines and hours set to protect the student from over-work, long term exhaustion or fatigue, or physical ailments due to over-work for no (or very little) monetary payment. Following the laws that the Department of Labor establishes, according to www.dol.gov
A board of directors for each Master's Commission that should include parents of students or staff members. Also, a safe "complaint" system established in which a student or staff member's parent(s), guardian or friend can go to without retributions in order to bring to the attention of the MCIN any matter of harassment, mental harm, destructive teaching, or all manners of an unhealthy group or cult-like teachings.
Regularly monitoring of activities, and teachings to prevent further development of patterns of cult-like teachings, destructive and harmful teachings and practices.
Encourage students to engage in open relationships with their parents, family and friends and not to exclude or hide anything from them. To develop an "Open Campus" policy and Parent's Board for parents to question policies, procedures, pay scale, work load and work schedules.
For the future of the MCIN, I would like to suggest the following for the safety and wellness of the staff members:
Set, enforced guidelines regarding pay scale for staff members relevant to actual work done that would be in the secular environment in the specific metropolitan area. Additionally, following the Department of Labor laws on employment and minimum wage.
Provide some type of minimum paid sick days and funeral leave standard to secular work place.
Provide access or information to health benefits or coverage, and adjust pay to appropriate for health care. (Note: Health care and health benefits do not mean the state run insurance!)
Provide paid vacation for full-time staff members, relevant to secular workplace.
Provide mileage compensation for job related driving.
Allow for staff members to date at their discretion, under advisement of the pastor only if the said staff member requests the advisement of a pastor. Take away the "No Dating" policy for students or staff members who are beyond their First Year. No dictating, scare tactics, or harassment of the staff member's choices of dating.
Perhaps the greatest issue not covered is the issue of a person who leaves Master's Commission (most groups included in this) is often ostracized. To ostracize is to: 1. exclude, by general consent, from society, friendship, conversation, privileges, etc. Ostracizing is what some modern churches do, but it's wrong. If you don't follow their tenants, you get excommunicated. After serving MC for several years, I followed the voice of God to go home. This voice of God that I heard was contrary to the voice of the pastors. What's ironic here is that I followed the voice of God, but was shunned from their 'bubble' and my reputation was ruined within that 'bubble' for not obeying the pastor.
I have carbon copied a number of persons for this letter. Please know that I care deeply about the future of Master's Commission, my former employers and their children; however, I would be doing a great injustice to the ministry itself, it's pastors, and related friends and benefactors had I failed to bring these wrongs to your attention.
I speak also on behalf of many alumni and former staff members who did not wish to risk personal retributions or emotional trauma from resurfacing these issues. They now have a voice and I hope forgiveness and open dialogue can one day enter all of our hearts. As Pulma Gobodo-Madikizela says, "For in the end, we are a society of people and not ideas, a fragile web of interdependent humans, not of stances."
Thank you,
L.
Cc: Edwin Ennis, Chris Lerma, Jacob Aranza
Resource: ACUI International Conference presentation "Desperately Seeking Community: The Appeal of Cult Leadership", Mindy Griffith, University of Arizona. March 6, 2000, New York, NY.
Additional information on Cults obtained from Purdue University Counseling Center and
University of Tennessee at Chattanooga Counseling Center.
Labor Laws may be obtained at the Department of Labor website: www.dol.gov
The Wedding of a Lifetime: I "Married" Jesus
Anderson Cooper's show has a call out to people who've married themselves, which apparently happens these days. I've got a better one, Cooper. I married Jesus. Here's how:
First, we wrote a letter to Jesus detailing our love, our pain and why we wanted Him. Then, we dimmed the lights, lit some candles and walked down the aisle of a church to sit in a pew. We prayed. We wept. We took our hand written letters and placed them in glass bottles and put a cork on top. Then, one by one, we walked down the church aisle again, holding our glass bottles. Our minister prayed over us, then put candle wax over the top of the bottle to "seal" our "covenant" with Jesus. We then went over to a pillow, got on our knees and the minister prayed with us again, asking us if we "committed" to the following "vows" to God. When we said yes, we were given a silver band to wear on our left ring finger. After that, we were "married" to Jesus for an entire year. We couldn't date. We couldn't have "emotional commitments". We couldn't ride alone in cars with boys.
We were "pure" and abstained from sex. We married Jesus.